TAKEN FROM THE COMP SECTION OF THE ASF FORUM....
**PLEASE READ THE INFO AT THE BOTTOM OF THIS FIRST POST BEFORE POSTING**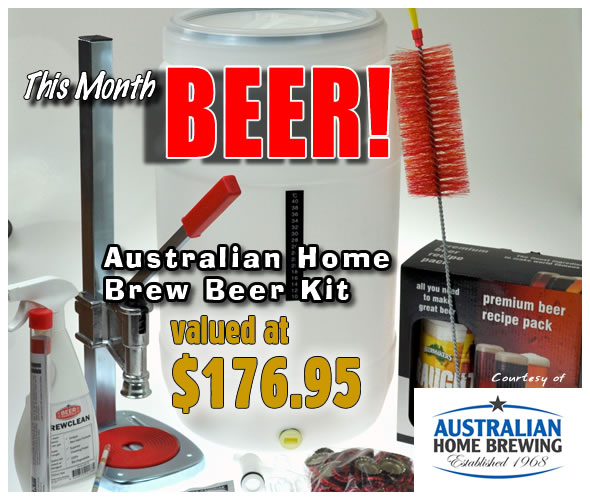 Here's your chance to win something completely different - a home brew kit from Australian Home Brew.
http://www.liquorcraft.com.au
(arranged by Dylan (OLDSKOOL))
Fed up of shit piss 'cause the good stuff's too expensive? Why not brew your own?
Beer brewing is really easy & what's more, you will discover that the beer you make is very good quality. It takes 1 to 3 weeks to make a batch & during that time you will spend a couple of hours of your time on the brew.
BREW CRAFT - AUSTRALIAN HOME BREWING
Now at 24 Eskay Road - Oakleigh South. Over those 34 years of operation, we have always & only done one thing. That is... to look after the needs of people like you who are interested in making your own drinks at home.
We supply the ingredients, equipment & information you need to make your own drinks & we also make sure you get maximum drinking pleasure & enjoyment from your brewing by backing you with expert help. You can have as much help as you want from us & it is all FREE.
In addition, we are part of a Nation-wide Network of Specialists called BREWnet. This gives us a vast pool of knowledge and expertise to call on so you will always be able to get an expert answer. If we don't have the answer to your question, he will be able to get it from someone else in the network. If you would like some advice or if you have any questions to ask, please don't hesitate to contact us. You can be sure we will give you good answers that are practical and not loaded with bullshit.



HOW DO YOU WIN THIS??
All you have to do is tell us you want it! Post a comment below along the lines of 'I'm in' and then we'll draw the names in this thread from the hat on draw date (listed below).
If you are an active Full ASF Member on the date of the draw you will be added to the draw to win this prize. It's that simple. All you need to do is make sure your ASF Full Membership is current.
THIS PRIZE WILL BE DRAWN ON 28/02/2013 - So get your post in before then.
**For anyone wondering about their membership expiry, please go to the SETTINGS link at the top right of the page and then select PAID SUBSCRIPTIONS from the left hand menu.
Good luck guys and gals.
As always I ask you to support our prize donators and check out Brewcraft - Australian Home Brewing and view their products.
Show Brewcraft - Australian Home Brewing your support and check out their website today:
http://www.liquorcraft.com.au/wawcs0146428/Home.html
Head Office & South East Suburbs Shop
Business hours
Mon to Fri 8.30am to 5.30pm
Sat 9.00am to 4.30pm
Sun 11.00am to 4.30pm
Phone:
+61 3 9579 1644
Fax:
+61 3 9579 1655
Email:
info@liquorcraft.com.au
Street:
24 Eskay Rd
Suburb:
Oakleigh South 3167
City:
Melbourne
Country:
Australia
Inner Suburbs Shop
Business Hours
Mon to Fri 11.00am to 5.30pm
Sat 9.00am to 4.30pm
Sun 11.00am to 4.30pm
Phone:
+61 3 9429 2066
Street:
143 Church Street
Suburb:
Richmond 3121
City:
Melbourne
Country:
Australia
North East Suburbs Shop
Business Hours
Mon to Fri 10.00am to 5.30pm
Sat 9.00am to 4.30pm
Phone:
+61 3 9455 1311
Street:
50 Burgundy Street
Suburb:
Heidelberg 3084
City:
Melbourne
Country:
Australia
PLEASE VISIT COMPETITION TOPIC TO PLACE YOUR ENTRY
http://www.streetfighters.com.au/forum/showthread.php?25975-Feb-2013-BEER!-Australian-Brew-Kit-up-for-grabs.&p=383985#post383985